Start -->
Texas Hoedown
A PYC member Goswald hosted a Texas themed night last year which featured slow smoked brisket, bbq chicken, and sides. Everyone dressed up and enjoyed some dancing and socializing after the light meal. The mix of live music and fiery sunset was an added bonus..
Sunday Breakfast
Last summer Bob M. hosted several Sunday breakfasts Al fresco Style (out door patio). Friends and members enjoyed starting the day right, freshly made breakfast to order, with steak, hash browns, orange juice, and more for only $5 dollars.
Caribbean Night
PYC members Abel and Kathy hosted an island party night last year, featuring food from the islands. Many members enjoyed the tiki themed event and the jerk chicken. (Yes, that sunset photo is from our club!).
Pig Roast
Last year PYC member Dan H. hosted a pig roast in October. It was very popular event and was a great way to finish the season. A great way to enjoy the fall with some of your guests and PYC friends.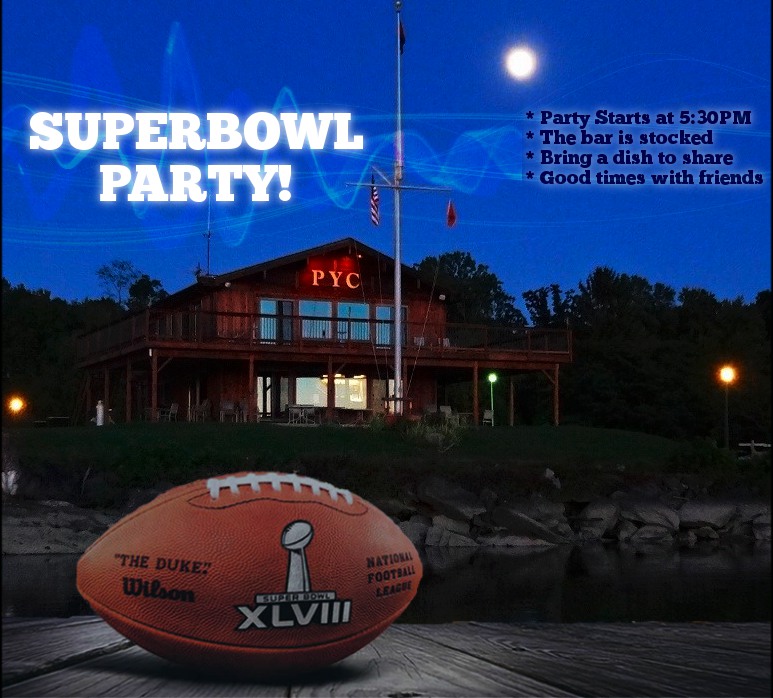 Sporting Events
Host or join in on sporting events at the PYC.
River Connection
In August we had a wonderful group of boaters from New Jersey come to our marina for an extended weekend. We hosted an event and had a good time with our guests. Throughout the season we have wonderful folks come to our club by boat.
Commodore's Ball
We host formal events throughout the year, Commodore's Ball is usually held at a local location.
 
Irish Night
Every year we hold a nice Irish Night at the PYC. Irish food, live Irish music, it is a great start to the season! Thank you Chuck and Paul for hosting this event.
Hat Races
Run by Paul D., members get together to sail informally on weekends. Always good fun.
PYC Luau
Tiki torches and grass skirts, our PYC luau! Mark J. held the last luau and was a huge success featuring prizes, music, and themed cocktails.
Fouth of July!
The Fourth of July is a great time at the PYC. We host an informal party and go to watch fireworks by boat. Don't have a boat, no problem.
This is the end of our slide show click HERE to return to the Offerings page.
Social Events